Onsite: BAI Retail Delivery 2014 rolls in to the second city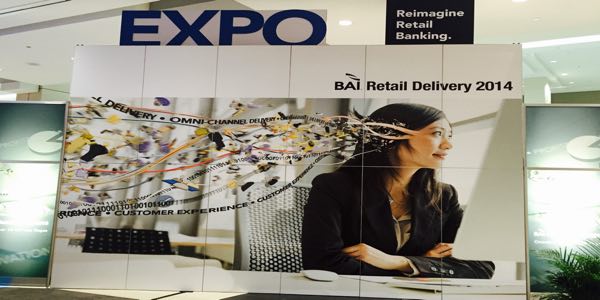 It's all about the digital innovation. Reimagine retail banking
BAI Retail Delivery 2014 has kicked off in Chicago bring together more than 3000 financial services professionals. We even spotted people from more then 100 credit unions in attendance. From a quick look at the agenda it is easy to see a common theme. It's all about digital (and protecting the consumer). The agenda is jam packed with over 60 conference sessions and more than 200 solution providers demoing their products and services in the Expo and Fintech Forward Pavilion. See all the action on Twitter @CUInsight and #RetailDelivery
The BAI Innovation Showcase featured 7-minute presentations from leading vendors with demos of their innovations and technology solutions for the retail banking industry. The morning session featured companies such as Deluxe Corp, inLighten, Fiserv and StrategyCorps followed by ProfitStars, Malauzai Software, SAS and Leadfusion and others in the afternoon.
New this year at BAI Retail Delivery was the FinTech Forward Pavilion. This is a new initiative between BAI and American Banker that focused on key trends shaping the banking industry in the future and the technology and knowledge to get there. Wednesday's topics were Leveraging Technology to Enhance Revenue and Increase Efficiency and Digital Mobile Transformation Best Practices. Today a panel of industry CEOs will discuss the Technology Trends Transforming the Industry.
As I mentioned in the beginning digital was a common theme. From how banks and credit unions look to create new revenue opportunities, to how digitally savvy today's consumers are. The questions being asked were on how to provide financial services in a digital environment and the omni-channel experience of bringing together digital, mobile and the physical channels. The digital change has happened and it moves very quickly if you want your institution to keep pace.
Wednesday was highlighted by a general session from Gary Vaynerchuk, entrepreneur, author and co-founder of VaynerMedia, to a packed room. If you haven't had a chance to see Gary present I suggest looking him up on YouTube. Gary gives a high-energy presentation with the message of are you marking in today's environment. I think his presentation may have had a common sense eye-opening affect on many executives in attendance.
It was good to see many familiar faces from around the credit union community. While we were vastly outnumbered by the bankers the conversations and concerns were universal. Digital is more then a millennial strategy and not just a future initiative. The blend of digital and the traditional way of banking is here now and that's what the conversations focused on in Chicago on Wednesday.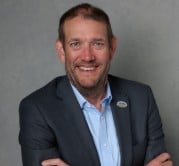 Randall Smith is the co-founder of CUInsight.com, the host of The CUInsight Experience podcast, and a bit of a wanderlust. As one of the co-founders of CUInsight.com he ...
Web: www.CUInsight.com
Details