The CUInsight Experience podcast: Karen Allen – Mindset reset (#145)
"Stop and refuel, don't get stuck on the side of the road." - Karen Allen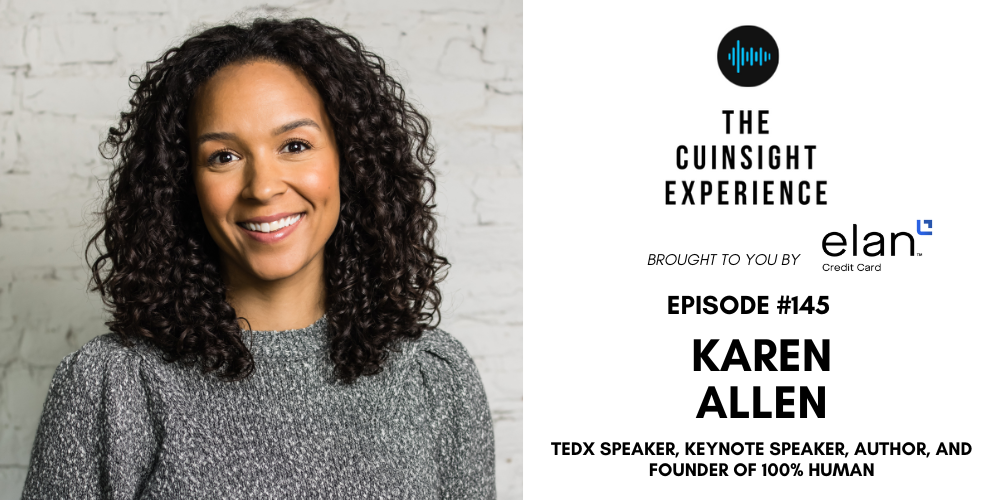 Thank you for tuning in to episode 145 of The CUInsight Experience podcast with your host, Randy Smith, co-founder of CUInsight.com. This episode is brought to you by Elan Credit Card. Elan partners with more than 250 credit unions to provide an outsourced credit card program, and offers merchant and mortgage services for credit union members and business owners.
My guest on today's show is Karen Allen. Karen is a TEDx speaker, founder of 100% Human, and author of Stop & Shift: The Mindset Reset That Changes Everything. She helps people develop their mental strength, shift their mindset, and embrace the imperfection of being human. Karen is also the keynote speaker for CUInsight Mini-Con: REFUEL where she will share a simple, yet powerful technique that will help us let go of negative thought cycles and move to more productive and positive thinking.
As we start the episode, Karen shares a personal experience that led her to creating this movement. We discuss the importance of intentional living and what it means to lead with a growth mindset. We also talk about life and how it can unfold outside of our control, so knowing how to respond to it, matters. Karen refers to "The Great Resignation" as "The Great Reset," allowing people to focus and take care of their mental well-being.
During our conversation, Karen talks about how to manage our inner critic and collaborate with our inner guide. She encourages listeners to cultivate a relationship with their inner guide to reduce the noise and focus inward to lead an intentional life. Once we realign our priorities towards what matters most, we can accomplish much more. Karen gives insights on feedback and how both positive and problematic feedback can help people grow. We talk about the "now" of leadership and humanizing relationships at work to be less transactional. Listen as Karen shares the tools we need to live our dreams purposefully.
As we wrap up the show, Karen talks about being fully present in one role at a time, the book she has written along with others she enjoys, and appreciating Mamba Mentality. Enjoy my conversation with Karen Allen!
Subscribe on: Apple Podcasts, Spotify, Stitcher 
Books mentioned on The CUInsight Experience podcast: Book List 
How to find Karen:
Karen Allen, Founder of 100% Human and keynote speaker at CUInsight Mini-Con: REFUEL
karen@karenallen.co
https://www.karenallen.co
Karen: LinkedIn | Instagram | TikTok | Twitter | YouTube
Podcast: 100% Human
Show notes from this episode:
A big shout-out to our friends at Elan Credit Card, an amazing sponsor of The CUInsight Experience podcast. Thank you!
Want to hear more from Karen? Click here.
To learn more and register for the CUInsight Mini-Con: REFUEL event, click here.
Shout-out: CUInsight Mini-Con: Refuel
Shout-out: Karen's son
Shout-out: Great Resignation
Shout-out: Tony Hsieh
Shout-out: Zappos
Shout-out: LinkedIn Learning
Shout-out: Golden Gate Bridge
Shout-out: Kobe Bryant
Album mentioned: Fly by Dixie Chicks
Album mentioned: Collision Course by Linkin Park and Jay-Z
Book mentioned: Stop & Shift: The Mindset Reset That Changes Everything by Karen Allen
Book mentioned: The Alchemist by Paulo Coelho
Book mentioned: Life's Golden Ticket by Brendon Burchard
Previous guests mentioned: Ty Muse
In This Episode:
[00:53] – Karen Allen says where she is today comes from how she responds to the changes of life. 
[03:02] – Karen shares how she responded to losing her spouse, and how she changed her view from grief to growth.
[05:38] – Accept that hard things happen so you can choose your response to life with a clear mind.
[07:15] – What is the "Great Reset", and what is the impact of it?
[09:04] – What kind of life do you actually want to live?
[10:58] – Build a better relationship with your inner voice.
[13:52] – Karen talks about realizing your unique vision in life.
[16:16] – People notice when someone is living authentically.
[18:02] – When leading a team, give people the space to be human. What does this mean?
[20:23] – How can you show up for others when you don't know what to do?
[21:46] – Feedback needs to be specific.
[24:33] – Karen says it's okay to stop and revisit feedback when the conversation is not effective.
[26:03] – Let's help each other grow through our differences.
[28:50] – Simply do your role well, and see how life ripples. PART 1
[30:42] – Simply do your role well, and see how life ripples. PART 2
[32:20] – Karen shares why this American landmark amazed her.
[33:56] – In every moment, you lead your life from a different role.
[35:25] – Karen says she listened to this collaboration album front to back. Which artists are on it?
[36:58] – What books does Karen recommend?
[39:07] – In life, focus on how you can become a better you.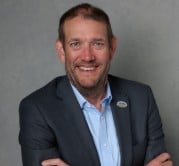 Randall Smith is the co-founder of CUInsight.com, the host of The CUInsight Experience podcast, and a bit of a wanderlust. As one of the co-founders of CUInsight.com he ...
Web: www.CUInsight.com
Details