The CUInsight Experience podcast: Leo Ardine – Create space (#150)
"Tell stories so that people can connect to that purpose." - Leo Ardine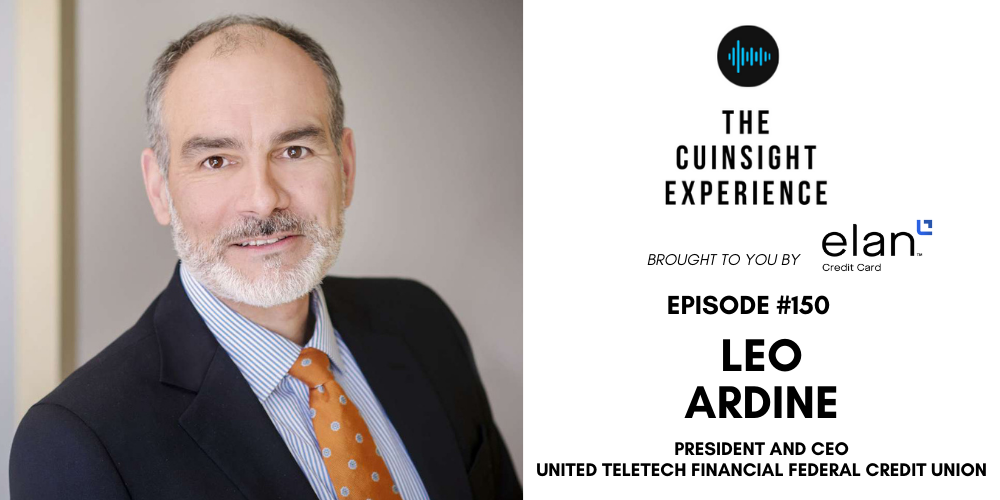 Thank you for tuning in to episode 150 of The CUInsight Experience podcast with your host, Randy Smith, co-founder of CUInsight.com. This episode is brought to you by Elan Credit Card. Elan partners with more than 250 credit unions to provide an outsourced credit card program, and offers merchant and mortgage services for credit union members and business owners.
My guest on today's show is Leo Ardine, President and CEO of United Teletech Financial Federal Credit Union. Leo begins by sharing his career journey that led him to credit unions. As a leader in the credit union industry, he helps fellow leaders and organizations discover emotionally intelligent solutions to problems that they face. He talks about emotional intelligence to create awareness and empower others to show vulnerability and humanity. Today, he's back on the show after a spark of inspiration for a chat that'll wrap up 2022 and season 4 of The CUInsight Experience Podcast!
During our conversation, Leo and I discuss how we create space to prioritize meaningful things in life. Leo shares what he believes causes misalignment for most people as they rethink their values. He speaks on the importance of listening and engaging with members to meet their needs and then telling the story of each impact to propel the movement forward. We go through personal anecdotes we learned in our own lives that guided us to this point. Leo and I talk about purpose, fulfillment, leadership, hard decisions, and personal alignment. Listen to our conversation to better understand the meaning behind purpose and what lights you up in 2023.
As we wrap up the show, listen in as Leo casts Tom Hanks in his biopic, talks about dharma, and offers words of encouragement. Enjoy my conversation with Leo Ardine!
Subscribe on: Apple Podcasts, Spotify, Stitcher 
Books mentioned on The CUInsight Experience podcast: Book List 
How to find Leo:
Leo Ardine, President and CEO of United Teletech Financial Federal Credit Union
https://www.utfinancial.org
Leo: LinkedIn
United Teletech Financial: LinkedIn | Instagram | Twitter 
Show notes from this episode:
A big shout-out to our friends at Elan Credit Card, an amazing sponsor of The CUInsight Experience podcast. Thank you!
Want to hear more from Leo? Click here.
Place mentioned: Maine
Place mentioned: New Jersey
Place mentioned: Edison, NJ
Shout-out: Forest Ranger/ Park Ranger
Shout-out: Leo's children
Shout-out: Leo's parents
Shout-out: Jill Nowacki
Shout-out: Filene Research Institute
Shout-out: Chuck Fagan
Place mentioned: St. Helens, OR
Place mentioned: Clawson, MI
Shout-out: TD Bank
Shout-out: Rachel Pross
Shout-out: TD Bank
Shout-out: Todd Harper
Shout-out: Tom Hanks
Book mentioned: The Great Work of Your Life: A Guide for the Journey to Your True Calling by Stephen Cope
Previous guests mentioned in this episode: Leo Ardine, Jill Nowacki (episodes 4, 18, 37, 64, 82, 101, 113, 126, 138, & 148), Chuck Fagan, Rachel Pross, Todd Harper
In This Episode:
[01:04] – Leo Ardine shares what roles led him to United Teletech FCU. 
[02:38] – Leo originally wanted to be a Forest Ranger.
[04:23] – What did Leo's daughter say that made him reflect on his personality?
[06:51] – Why did Leo feel it was important for his children to see his vulnerable side?
[08:55] – How do you balance your heart's desires and your work? 
[10:53] – "Does that serve our purpose?"
[13:43] – Explore what truly lights you up.
[15:24] – Have you ever revisited what your values are? Did they change?
[17:21] – Take time to explore prompts that help you reflect on how to show up as your full self.
[19:26] – Ask open questions to remain curious in partnerships and relationships.
[22:11] – "There's a real need for the work that credit unions do in the world."
[24:08] – Develop an understanding of what lights you up. It may look differently from what you were taught.
[26:27] – Small decisions help you shift towards what you desire.
[29:20] – How fulfilled do you feel in your life right now?
[31:04] – It takes bravery to live the dream you believe in.
[33:49] – What will actually be important to you years later?
[35:46] – Schedule time in your calendar to think about yourself and your life.
[38:23] – Journaling creates a great opportunity to reflect and gain clarity, which helps you communicate your purpose.
[40:12] – How can you have meaningful dialogue with yourself and others?
[41:52] – Here are tips on how you can create the space to prioritize your life.
[43:48] – Leo chooses Tom Hanks to play him in a biopic.
[45:03] – Create space in life to allow yourself and the people around you to breathe.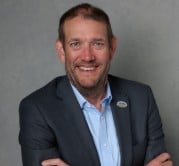 Randall Smith is the co-founder of CUInsight.com, the host of The CUInsight Experience podcast, and a bit of a wanderlust. As one of the co-founders of CUInsight.com he ...
Web: www.CUInsight.com
Details