The CUInsight Experience podcast: Mike Valentine – Evolution of growth (#128)
"Surround yourself with people that complement you." - Mike Valentine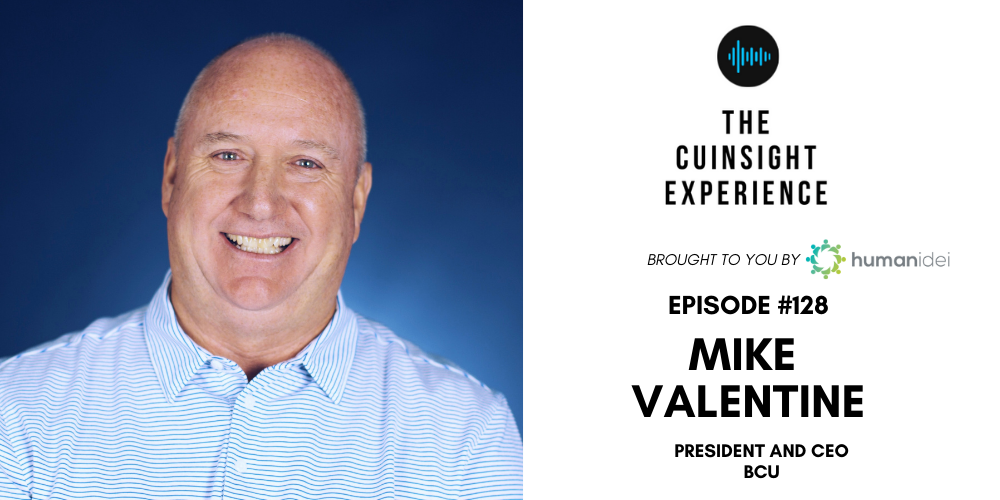 Thank you for tuning in to episode 128 of The CUInsight Experience podcast with your host, Randy Smith, co-founder of CUInsight.com. This episode is brought to you by Humanidei. Humanidei helps credit unions build inclusive cultures that attract, develop, and retain talent.
My guest on today's show is Mike Valentine, President & CEO of BCU based in Illinois. He built his credit union career over more than three decades at BCU. Mike shares the story of the ambitious start (including one very ambitious conversation) that led to him becoming the President & CEO at the credit union. BCU is one of the fastest growing credit unions in the country, and continues to grow; today, it is more than $5 billion in asset size.
Mike encourages credit union professionals to improve their collaboration and communication, and encourages credit unions to establish strong partnerships in alignment with their strategic plans. He shares his perspective on the importance of growth, and the ways it leads to opportunity. During our conversation, we also chat about emerging trends in the workforce and the need to embrace flexibility and a virtual environment to attract and retain talent.
Mike and I discuss leadership, mentorship, and giving better feedback. Together we reflect on how the organizational culture changes as teams grow. Listen as Mike shares the top traits that stand out for him in potential hires, why he looks for people who complement his skillset, and how to manage the CEO-board relationship. Mike explains that he thinks of his career as a mission more than a job, and his endeavors to promote diversity and inclusion at BCU.
Above all, Mike believes communication is critical to maintaining a good balance between work and family, along with having a partner side-by-side with him. Tune in to hear the last time he was amazed, stories about his mentors, and his advice to new CEOs in their board relations. Enjoy my conversation with Mike Valentine!
Subscribe on: Apple Podcasts, Spotify, Stitcher 
Books mentioned on The CUInsight Experience podcast: Book List 
How to find Mike:
Mike Valentine, President & CEO of BCU
mike.valentine@bcu.org
https://www.bcu.org
LinkedIn | Instagram 
Show notes from this episode:
A big shout-out to our friends at Humanidei, an amazing sponsor of The CUInsight Experience podcast. Thank you!
Want to hear more from Mike? Click here.
Place mentioned: Illinois
Shout-out: Rex Johnson
Shout-out: Humanidei
Shout-out: Jill Nowacki
Shout-out: Detroit, Michigan
Shout-out: CUNA Mutual Group
Shout-out: PSCU
Shout-out: Chuck Fagan 
Shout-out: Bob Trunzo
Shout-out: Lumin Digital, a PSCU Company
Shout-out: Alkami
Shout-out: Jack Henry & Associates
Shout-out: Warren Buffet
Shout-out: Dale Carnegie
Shout-out: CUES
Shout-out: John Bratsakis
Shout-out: Bill Belichick 
Shout-out: Bob McKay 
Shout-out: Together CU
Shout-out: Jeff March
Shout-out: Citadel CU
Shout-out: James Wileman
Place mentioned: Alaska
Shout-out: Mike's son
Shout-out: Consumers Credit Union
Shout-out: ESPN
Shout-out: Chicago Bears
Shout-out: Chicago Cubs
Shout-out: Chicago Blackhawks
Shout-out: Mike's brother and sister-in-law
Shout-out: Vernon Loucks, Jr.
Shout-out: Baxter Healthcare
Shout-out: Lauren Culp
Shout-out: Mike's wife, daughter, and grandson
Shout-out: Mike's kids and grandkids
Artist mentioned: The Beatles
Album mentioned: The Beatles (The White Album) by The Beatles 
Book mentioned: Wellbeing At Work, How to Build Resilient and Thriving Teams by Jim Clifton, Jim Harter
Book mentioned: The Double Bottom Line, How Compassionate Leaders Captivate Hearts and Deliver Results by Donato Tramuto with Tami Booth Corwin
Previous guests mentioned in this episode: Jill Nowacki (episodes 4, 18, 37, 64, 82, 101, 113, and 126), Chuck Fagan, Bob Trunzo, John Bratsakis, Lauren Culp
In This Episode:
[00:44] – Mike Valentine remembers a bold question he asked his boss early in his career. 
[02:38] – How did Mike transfer into the credit union space, and what kind of skills did he bring to the field? 
[04:20] – Partnerships help get everything done. How should credit unions view collaboration?
[06:14] – Mike talks about how to communicate strategic plans between credit unions and partners.
[08:17] – Mike expresses gratitude for leaders that take time to develop talent.
[10:23] – Company culture and leadership changes as teams grow, even when working remotely.
[12:36] – Mike shares his methods of speaking with his team to maintain a personal connection.
[14:08] – If potential hires have these traits, Mike believes he can teach them everything else. What kind of feedback does Mike give?
[17:02] – Mike gets excited to see people grow in their careers.
[19:04] – Leaders should listen, and read the room, before blindly changing too much at once.
[21:41] – Growth and opportunity come together. Without growth or opportunity, a credit union is dying.
[24:04] – Mike explores pivots of adapting to the new work environment of modern society, and connecting with people.
[26:28] – A deal can appear different depending on if you're the one putting the funds behind it.
[29:49] – Mike shares work with people who are your complementary, and gushes over his new grandson.
[31:20] – Have fun with your life and passion. Working with passion influences the work and team around you. 
[33:21] – As credit unions learn more and more, there is greater opportunity.
[35:41] – Listen to Mike's favorite music, reads, and who he defines as "success".
[37:51] – Thank you for listening, be well friends.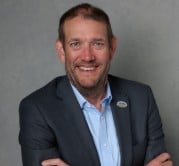 Randall Smith is the co-founder of CUInsight.com, the host of The CUInsight Experience podcast, and a bit of a wanderlust. As one of the co-founders of CUInsight.com he ...
Web: www.CUInsight.com
Details