The CUInsight Experience podcast: Becky Reed – Making magic (#157)
"Collaboration is how we are going to win in the future." - Becky Reed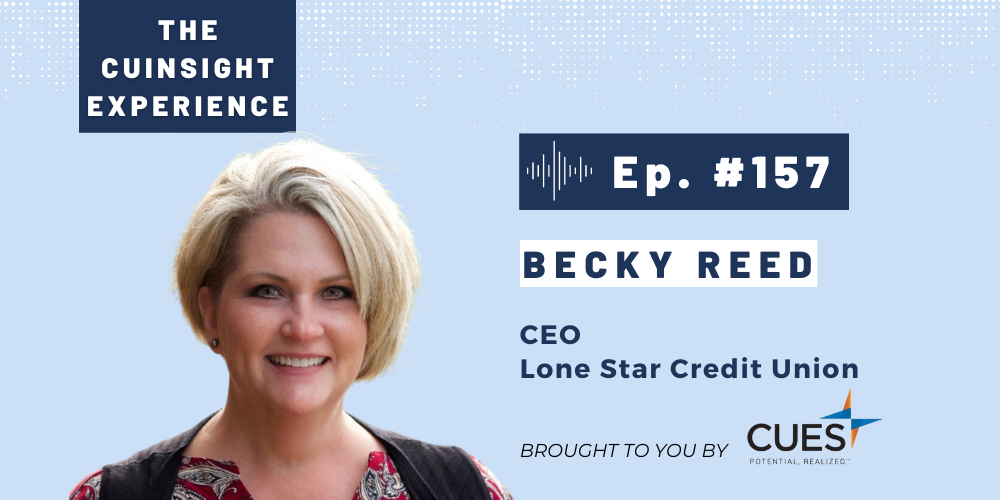 Thank you for tuning in to episode 157 of The CUInsight Experience podcast with your host, Randy Smith, co-founder of CUInsight.com. This episode is brought to you by CUES. CUES is the leading talent development solutions provider in the credit union industry. After listening to our show, learn more and register for CEO Dialogue. This new CUES event is an opportunity to join your fellow CEOs from credit unions across North America in an open discussion format tackling the industry's most pressing issues.
My guest on today's show is Becky Reed, CEO at Lone Star Credit Union and Board Chair of NACUSO. Becky shares her journey and how she started her career in credit unions over 25 years ago. She chats about her experience growing in the credit union movement including advice, knowledge, and inspiration for the future. Becky's leadership at Lone Star has led the team to implement technology that provides a personalized member experience with a small-town feel. In her role as board chair, Becky also guides NACUSO in its mission to help credit unions explore the use of CUSOs to stay in touch with the future of finance.
During our conversation, Becky and I chat about relevancy and how credit unions can appeal to  all generations by sharing our mission. We discuss the balance of collaboration and decentralized finance (DeFi) as it relates to relevancy. Becky talks about the uprising of society losing trust in and questioning their relationship with traditional financial institutions. She explains how credit unions are well positioned to be a trusted partner that gives people their power back. Becky shares ways that CUSOs benefit credit unions, other CUSOs, and the movement as a whole through collaboration. Listen as we discuss how the credit union industry can empower each other to better serve the public.
As we wrap up the show, listen in as Becky talks about what she's doing to keep up with market trends, why she considers Condoleezza Rice successful, and which books she recommends. Enjoy my conversation with Becky Reed!
Subscribe on: Apple Podcasts, Spotify, Stitcher 
Books mentioned on The CUInsight Experience podcast: Book List 
How to find Becky:
Becky Reed, CEO at Lone Star Credit Union
lonestarcu.org
Becky: LinkedIn
Lone Star: LinkedIn | YouTube | Instagram | Facebook
Show notes from this episode:
A big shout-out to our friends at CUES, an amazing sponsor of The CUInsight Experience podcast. Thank you!
Want to hear more from Becky? Click here.
Shout-out: NACUSO
Shout-out: CUES
Place mentioned: Detroit, MI
Shout-out: Becky's parents
Shout-out: Bank of America
Shout-out: Randy's mother
USA Act mentioned: H.R. 1151
Shout-out: Linda Bodie
Shout-out: Mary Beth Spuck
Shout-out: ChatGPT
Shout-out: Pure IT Credit Union Services 
Shout-out: Lauren Culp
Shout-out: Ray Crouse
Shout-out: Becky's previous manager
Shout-out: Todd Harper
Shout-out: Reese Witherspoon
Shout-out: Condoleezza Rice
Shout-out: Mike Lawson
Shout-out: CUNA GAC
Album mentioned: The Dark Side of the Moon by Pink Floyd 
Album mentioned: Appetite for Destruction by Guns N' Roses
Book mentioned: The 4 Disciplines of Execution: Achieving Your Wildly Important Goals by Chris McChesney, Jim Huling, and Sean Covey
Book mentioned: The Art of War by Sun Tzu
Book mentioned: Personality Plus by Florence Littauer
Previous guests mentioned in this episode: Linda Bodie, Mary Beth Spuck, Lauren Culp (episodes 39 & 115), Ray Crouse, Todd Harper
In This Episode:
[01:00] – Becky Reed started her career in retail working at a music store.
[03:14] – Becky found out about credit unions through her parents.
[04:50] – What can credit unions do to resonate with the public? 
[07:36] – "We need to look at the future of finance."
[10:31] – Decentralized finance is the future of finance. PART 1
[13:15] – Decentralized finance is the future of finance. PART 2
[14:55] – Collaboration is our superpower.
[17:15] – Use a CUSO to achieve scale.
[19:06] – Solving concerns with the support of an innovative CUSO.
[20:56] – "Be Curious. Stay Curious. Ask Questions."
[23:53] – How do leaders find curiosity while interviewing potential team members?
[26:15] – Encourage failure.
[28:45] – How do credit unions approach big ideas? PART 1
[31:21] – How do credit unions approach big ideas? PART 2
[34:17] – The magic happens when you meet in the middle.
[37:11] – How does Becky prioritize her daily tasks?
[38:53] – Becky prefers fiction books, but recommends these nonfiction reads.
[41:06] – Don't count credit unions out.
[42:50] – Thank you Becky, and thank you for listening!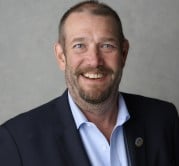 Randall Smith is the co-founder of CUInsight.com, the host of The CUInsight Experience podcast, and a bit of a wanderlust. As one of the co-founders of CUInsight he looks ...
Web: www.CUInsight.com
Details