The CUInsight Experience podcast: Jennifer D'Amico and Randy Schultz – Community and culture (#136)
"We want people that are authentic, and passionate, and want to do what's best for members." - Jennifer D'Amico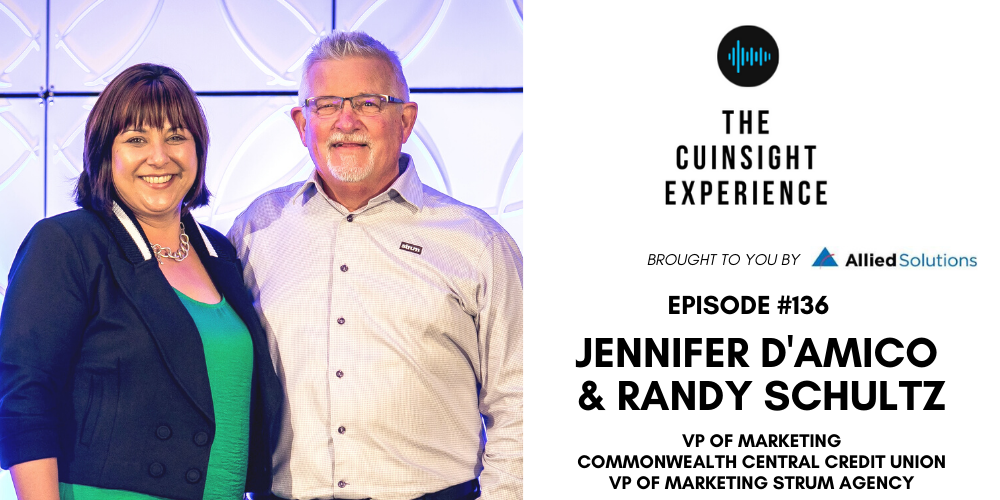 Thank you for tuning in to episode 136 of The CUInsight Experience podcast with your host, Randy Smith, co-founder of CUInsight.com. This episode is brought to you by Allied Solutions. Allied Solutions is focused on helping clients grow their bottom line, protect their business and members, and evolve to stay ahead of the competition.
My guests on today's show are Jennifer D'Amico and Randy Schultz! Jen is the VP of Marketing at Commonwealth Central Credit Union. Randy is the VP of Marketing at Strum Agency. This episode is filled with insights from two marketing experts in the credit union industry, and was recorded in front of a live audience at the 2022 MAC Conference in Chicago. Jen and Randy talk about what gets them most excited for the future of the movement including data, culture, member experience, and change.
During our conversation, Jen and Randy dive into the greatest investment made in each of their careers. Coincidentally, they share similar thoughts on how they immerse themselves in the credit union community. They express the importance of creating connections, continuing education, and sharing ideas to stay relevant in the industry. Together we chat about what to look for in building a strong team that understands the culture and the "why" of the organization. Jen and Randy give their thoughts on using the organization's brand identity to boost morale internally and externally. Randy shares a heartwarming story that will resonate with everyone and inspire you to be more involved with your community.  
Jen talks about taking risks in marketing and the balancing act of driving new business and showing positive results, while sharing member stories. Randy gives tips to stay up to date in marketing and speaks on the importance of shifting our mindsets. We chat about the future of the credit union movement and the need to humanize the financial services industry to attract talent. Plus, tune in to hear Jen and Randy's perspective on decision-making and how it pertains to risk taking or remaining stagnant. 
As we wrap up the show, listen in as Jen and Randy discuss work-life balance, Randy's favorite album of all time, and the best combo: Pelotons and puppies. Enjoy my conversation with Jen and Randy!
Subscribe on: Apple Podcasts, Spotify, Stitcher 
Books mentioned on The CUInsight Experience podcast: Book List 
How to find Jen:
Jennifer D'Amico, VP of Marketing at Commonwealth Central Credit Union
jdamico@wealthcu.org
https://www.wealthcu.org
LinkedIn | Facebook | Instagram
How to find Randy:
Randy Schultz, VP of Marketing at Strum Agency
randy.schultz@strumagency.com
https://www.strumagency.com
LinkedIn | Facebook | Instagram | Twitter
Show notes from this episode:
A big shout-out to our friends at Allied Solutions, an amazing sponsor of The CUInsight Experience podcast. Thank you!
Want to hear more from Jen? Click here.
Want to hear more from Randy? Click here.
Place mentioned: Chicago, IL
Shout-out: Marketing Association of Credit Unions (MAC)
Place mentioned: California
Place mentioned: Seattle, WA
Shout-out: Horizon CU
Place mentioned: Spokane, WA
Shout-out: Mark Weber
Shout-out: Paris Chevalier
Shout-out: Warren Buffet
Shout-out: Dale Carnegie
Shout-out: CUES
Shout-out: REACH Innovation Group
Shout-out: CUNA
Shout-out: The Financial Brand
Shout-out: Pamela Hatt
Shout-out: Pen Air FCU
Shout-out: Boys and Girls Club, Boys & Girls Clubs of the Emerald Coast
Shout-out: Bonin Bough
Shout-out: Jennifer's children
Shout-out: Peloton 
Shout-out: Randy's Aussie pups
Album mentioned: Physical Graffiti by Led Zeppelin
Artist mentioned: Black Sabbath
Shout-out: Jill Nowacki
Book mentioned: Trust Yourself: Stop Overthinking and Channel Your Emotions for Success at Work by Melody Wilding, LMSW
Book mentioned: Trusted Leader: 8 Pillars That Drive Results by David Horsager
Shout-out: Agros International
Shout-out: Jennifer's parents
Previous guests mentioned in this episode: Mark Weber, Paris Chevalier, Jill Nowacki (episodes 4, 18, 37, 64, 82, 101, 113, & 126)
In This Episode:
[00:04] – Guess where we are for this episode with Jennifer D'Amico & Randy Schultz!
[01:35] – Jen says she originally wanted to be a professional singer, and Randy first considered being a music teacher. How did they land in the credit union industry?
[03:13] – What are Jen and Randy most excited about in the credit union industry looking towards the future?
[05:55] – Immerse yourself in credit union communities to develop a better understanding of the industry overall.
[08:40] – Seek team members who are authentic to the company culture.
[11:31] – Question how potential team members have demonstrated real-life engagement with the community.
[13:10] – Boost morale by showcasing your brand identity to team members and business partners.
[14:43] – What does it mean to get everyone involved with representing your credit union?
[17:33] – In marketing, there's a balance of trying new approaches and learning to improve upon those experiences.
[20:01] – Learn to question current business practices, and shift forward.
[21:51] – How can you communicate new strategies to leadership in your organization?
[23:35] – Are there ways to combat risk aversion when bringing new ideas to your team?
[25:37] – Jen and Randy share their hopes for changes to come in credit union work environments.
[27:38] – Does anyone ever know if they're making the right choice at the right time?
[29:05] – Taking time off with Pelotons and puppies.
[31:53] – What music and books are Jen and Randy consuming these days?
[33:13] – Who are some people Jen and Randy see as "successful?"
[34:51] – Thank you to Jen and Randy! Thank you for listening!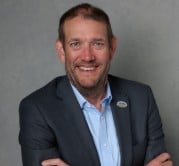 Randall Smith is the co-founder of CUInsight.com, the host of The CUInsight Experience podcast, and a bit of a wanderlust. As one of the co-founders of CUInsight.com he ...
Web: www.CUInsight.com
Details