The CUInsight Experience podcast: Tammy Passafiume – Gray areas (#153)
"Success is about knowing where your joy is and where it comes from." - Tammy Passafiume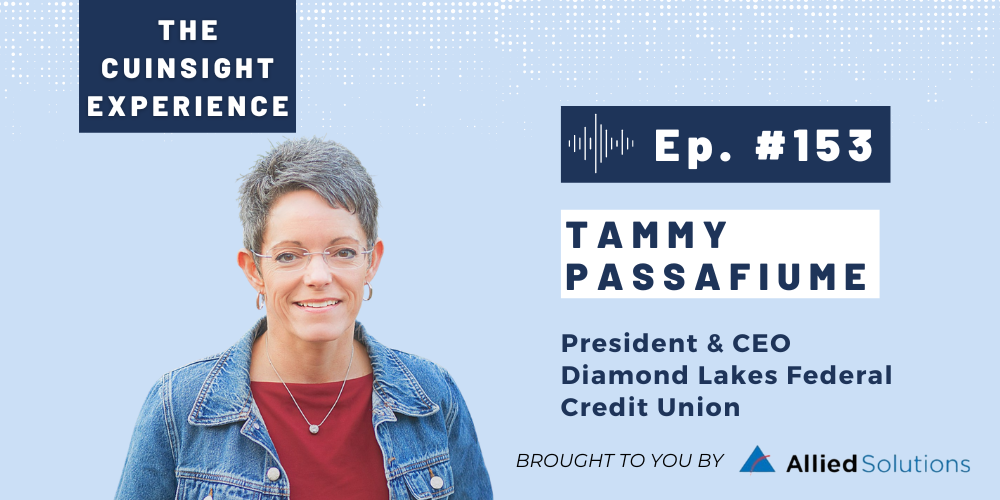 Thank you for tuning in to episode 153 of The CUInsight Experience podcast with your host, Randy Smith, co-founder of CUInsight.com. This episode is brought to you by Allied Solutions. Allied Solutions is focused on helping clients grow their bottom line, protect their business and members, and evolve to stay ahead of the competition.
My guest on today's show is Tammy Passafiume, President and CEO at Diamond Lakes Federal Credit Union. Tammy started her career as an insurance agent before making her way into the credit union industry where she started as a teller. The team at Diamond Lakes is encouraged to collaborate, adapt, change, and support one another despite any challenges. Tammy views credit unions as advocates for members and believes credit unions should also advocate for each other, locally and globally.
During our conversation, Tammy and I chat about the value of networking, mentoring, and surrounding yourself with solid groups of people. Tammy shares the greatest investments made in her career that set the path to where she is today. When it comes to leadership and team building, we discuss decision making and how to make progress in the gray areas of operating a credit union. Tammy shares why such decisions are better made as a team, keeping in mind who the decision impacts. She gives inspiring advice to leaders about the future of the movement. Listen as we talk about how to build a network of different perspectives, how to collaborate on all levels, and how to set boundaries while collaborating.
As we wrap up the show, listen in as Tammy talks about making memories more intentionally, being proud of a dear friend's book launch, and measuring success by the joy in your life. Enjoy my conversation with Tammy Passafiume!
Subscribe on: Apple Podcasts, Spotify, Stitcher 
Books mentioned on The CUInsight Experience podcast: Book List 
How to find Tammy:
Tammy Passafiume, President and CEO at Diamond Lakes Federal Credit Union
tammyp@diamondlakesfcu.org
https://www.diamondlakesfcu.org
Tammy: LinkedIn
Diamond Lakes: Facebook
Show notes from this episode:
A big shout-out to our friends at Allied Solutions, an amazing sponsor of The CUInsight Experience podcast. Thank you!
Want to hear more from Tammy? Click here.
Place mentioned: Arkansas
Shout-out: Caroline Willard
Shout-out: Cornerstone Credit Union League
Shout-out: Tammy's husband
Shout-out: International Paper
Shout-out: Tammy's dad
Place mentioned: Detroit, MI
Shout-out: Credit Union Women's Leadership Alliance (CUWLA)
Shout-out: Tamela Winfrey
Shout-out: Theresa Mann
Shout-out: Maurice Smith
Shout-out: Warren Buffet
Shout-out: Dale Carnegie
Shout-out: Harold Campbell
Education Program mentioned: CUNA Management School
Education Program mentioned: Credit Union Development Education (DE Program)
Shout-out: CUNA
Shout-out: Governmental Affairs Conference (GAC)
Shout-out: Zelle
Shout-out: Jill Nowacki
Shout-out: Credit Union League of Connecticut
Shout-out: Humanidei
Shout-out: Lily Newfarmer
Shout-out: Linda Bodie
Shout-out: Tammy's children
Shout-out: Steven Furtick
Song mentioned: Don't Stop Believin' by Journey
Book mentioned: The Infinite Game by Simon Sinek
Book mentioned: Kingdom Peaces: A Devotional of Musings, Meanderings & Meditations by Tamela L Winfrey
Book mentioned: Questions of Character: Illuminating the Heart of Leadership Through Literature by Joseph L. Badaracco
Book mentioned: Managing in the Gray: Five Timeless Questions for Resolving Your Toughest Problems at Work by Joseph L. Badaracco
Previous guests mentioned in this episode: Caroline Willard (episodes 20 & 147), Lily Newfarmer, Linda Bodie,  Maurice Smith (9 & 143), Jill Nowacki (episodes 4, 18, 37, 64, 82, 101, 113, 126, 138, & 148)
In This Episode:
[00:45] – Tammy Passafiume says she was an insurance agent until a friend called and offered her a position at a credit union.
[03:17] – Know the game of the industry so you don't run out of ambition and resources.
[05:02] – Credit union teams are meant to advocate for members and for each other.
[07:40] – "It has to start with me."
[09:06] – Tammy shares that CEOs do need boundaries even if they want to create a welcoming team environment.
[10:52] – Tammy talks about having boundaries without building walls. How can CEOs keep the team moving in the same direction?
[12:44] – The leadership of today differs from what leadership was decades ago.
[14:40] – Tammy shares her experience of cultivating relationships through mentorship and peers.
[17:49] – How does Tammy manage networking?
[20:06] – Connections that last.
[21:58] – How can credit unions make decisions when there's so much gray area? PART 1
[24:37] – How can credit unions make decisions when there's so much gray area? PART 2
[26:34] – What advice does Tammy have for upcoming credit union professionals?
[28:05] – How can teams continue to move forward when dealing with limited resources and rapid industry changes?
[29:42] – Tammy says she's working on being more intentional with her time and making memories.
[32:16] – "Can I do it first?"
[34:51] – Success is about knowing where your joy is and where it comes from.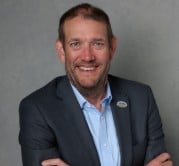 Randall Smith is the co-founder of CUInsight.com, the host of The CUInsight Experience podcast, and a bit of a wanderlust. As one of the co-founders of CUInsight.com he ...
Web: www.CUInsight.com
Details