The CUInsight Experience podcast: Tansley Stearns – Impossible things (#146)
"Keep dreaming boldly. The work this industry does matters so much." - Tansley Stearns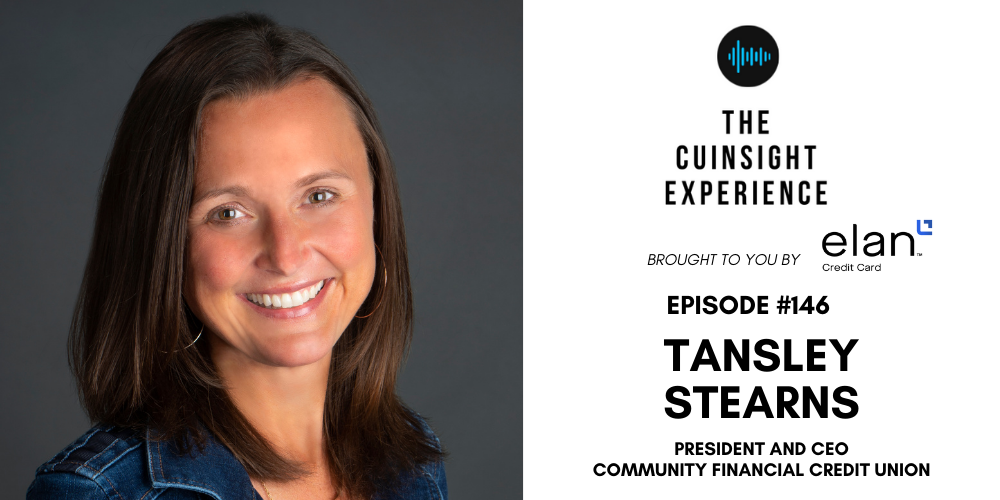 Thank you for tuning in to episode 146 of The CUInsight Experience podcast with your host, Randy Smith, co-founder of CUInsight.com. This episode is brought to you by Elan Credit Card. Elan partners with more than 250 credit unions to provide an outsourced credit card program, and offers merchant and mortgage services for credit union members and business owners.
My guest on today's show is Tansley Stearns, President and CEO at Community Financial Credit Union. She is a Michigan native with decades of experience working with credit unions and the Filene Research Institute. Tansley and I discuss her 20-year path to the CEO chair that was once a dream and now a reality. She shares her love for credit unions and motivates the movement to change the world. 
During our conversation, Tansley discusses the importance of connecting the digital experience with the personal experience to remain competitive and achieve long term success. Tansley shares the greatest investment made in her career that set the path to where she is today. She mentions the importance of relationship building and maintenance as they pertain to networking and learning. When adding a new member to her team, Tansley looks for people who are passionate about transforming financial services. She circles back to the importance of relationship building when creating a cushion as a foundation for feedback that allows for directness and transparency.
Tansley and I chat about the future of the credit union movement and what makes a good leader, including having a clear vision and a people-first approach. She talks about authenticity and being true to yourself to develop trust and build relationships, specifically during change. She expresses the validity of building a culture and truly caring for one another in and out of the office. 
As we wrap up the show, Tansley talks about being in awe of her team, maintaining her personal and professional life, and reading books that give her a new outlook as a CEO. Enjoy my conversation with Tansley Stearns!
Subscribe on: Apple Podcasts, Spotify, Stitcher 
Books mentioned on The CUInsight Experience podcast: Book List 
How to find Tansley:
Tansley Stearns, President and CEO at Community Financial Credit Union
tansley@cfcu.org  
https://www.cfcu.org/ 
Tansley: LinkedIn
Community Financial: LinkedIn | Facebook | Instagram | Twitter | YouTube
Show notes from this episode:
A big shout-out to our friends at Elan Credit Card, an amazing sponsor of The CUInsight Experience podcast. Thank you!
Want to hear more from Tansley? Click here.
Place mentioned: Michigan
Shout-out: Jill Nowacki
Place mentioned: Detroit, MI
Shout-out: Tansley's parents
Shout-out: Tansley's daughter
Shout-out: University of Michigan
Shout-out: John Normandeau
Place mentioned: Connecticut
Shout-out: Bethpage Federal Credit Union
Place mentioned: Long Island, NY
Shout-out: Filene Research Institute
Shout-out: Canvas Credit Union
Shout-out: Mike Neil
Shout-out: Paul Gentile
Shout-out: Todd Marksberry
Shout-out: Ms. Pac-Man
Artist mentioned: Dave Matthews
Shout-out: Cathy Meyers
Shout-out: Amazon
Shout-out: Warren Buffet
Shout-out: Dale Carnegie
Shout-out: Filene i3
Shout-out: Jeff York
Shout-out: Jeff Kline
Shout-out: Tom Boos
Shout-out: Mark Meyer
Shout-out: Elry Armaza
Shout-out: Danielle Milner
Shout-out: Chuck Fagan
Shout-out: Humanidei
Shout-out: Mike Schenk
Book mentioned: A CEO Only Does Three Things: Finding Your Focus in the C-Suite by Trey Taylor
Previous guests mentioned: Tansley Stearns, Jill Nowacki (episodes 4, 18, 37, 64, 82, 101, 113, 126, & 138), Paul Gentile, Chuck Fagan
In This Episode:
[00:46] – Tansley Stearns accomplished her longtime dream of taking on a CEO role.
[02:46] – How did Tansley get her start?
[04:50] – Tansley says she had a lot of great mentors along her journey.
[07:27] – Come from a place of your passions because that's the place you're going to resonate with people.
[10:01] – "Be you."
[12:33] – Why did Tansley change the dress code at Community Financial CU?
[14:14] – Tansley warns against complacency in member service.
[16:17] – Connections are the path of life.
[18:53] – Tansley talks about balancing team dynamics with diverse personalities.
[21:30] – What does Tansley look for in team members?
[24:23] – Tansley offers both feedback and kudos on a consistent basis.
[26:32] – Vision coupled with a people-first approach.
[28:40] – How does Tansley decide to let go of a project?
[30:29] – Tansley keeps herself grounded to maintain strong relationships with her team and board members.
[32:49] – How can leaders inspire teams to invest their energy in company changes?
[35:43] – What was Tansley's first job?
[38:43] – It takes discipline to be good at your personal life and career.
[40:46] – Which surprise actress would Tansley choose to play her in a biopic?
[42:14] – Keep dreaming boldly.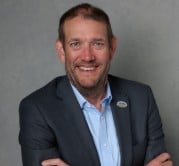 Randall Smith is the co-founder of CUInsight.com, the host of The CUInsight Experience podcast, and a bit of a wanderlust. As one of the co-founders of CUInsight.com he ...
Web: www.CUInsight.com
Details