The CUInsight Experience podcast: Stephanie Covington – Big ideas (#152)
"Believe in yourself and never underestimate your value." - Stephanie Covington
Thank you for tuning in to episode 152 of The CUInsight Experience podcast with your host, Randy Smith, co-founder of CUInsight.com. This episode is brought to you by Allied Solutions. Allied Solutions is focused on helping clients grow their bottom line, protect their business and members, and evolve to stay ahead of the competition.
My guest on today's show is Stephanie Covington, President and CEO of GPO Federal Credit Union in Washington, DC. Stephanie entered the credit union industry right after high school and we discuss her career journey that led her to her current role. GPO Federal Credit Union strives to make a positive impact on every generation. Stephanie shares her love for credit unions and the people helping people philosophy that keeps the movement so strong. 
During our conversation, Stephanie discusses the opportunities that come with utilizing technology and also mentions the challenges that may arise. Stephanie and I talk about keeping the big picture top of mind. She empowers her team to bring ideas and feedback to the table when discussing new ventures. Stephanie shares the greatest investment made in her career that she continues to benefit from. When adding a new member to the team, Stephanie looks for people who are open to risks and opportunities but also take accountability for their actions. Stephanie and I chat about the future of the credit union movement and what makes a good leader, including the importance of strong teams. Listen as we talk about creating a positive culture, getting to know your board members as individuals, and minimizing risks by piloting big ideas.
As we wrap up the show, listen in as Stephanie talks about Oprah's long and impactful career, Micheal Jackson's Thriller album, and her mother's wise advice about self worth. Enjoy my conversation with Stephanie Covington!
Subscribe on: Apple Podcasts, Spotify, Stitcher 
Books mentioned on The CUInsight Experience podcast: Book List 
How to find Stephanie:
Stephanie Covington, President and CEO of GPO Federal Credit Union
scovington@gpofcu.org
www.gpofcu.org
Stephanie: LinkedIn
GPO FCU: Twitter | Facebook | Instagram 
Show notes from this episode:
A big shout-out to our friends at Allied Solutions, an amazing sponsor of The CUInsight Experience podcast. Thank you!
Want to hear more from Stephanie? Click here.
Place mentioned: Washington, D.C.
Shout-out: Justice Federal Credit Union
Shout-out: PenFed Credit Union
Shout-out: Wachovia
Shout-out: Wells Fargo
Shout-out: Capital One
Shout-out: Bank of America
Shout-out: April Clobes
Shout-out: Zelle
Shout-out: Renée Sattiewhite
Shout-out: Jill Nowacki
Shout-out: Latonya Allen
Shout-out: Climb Africa to Benefit The ACCOSCA Academy
Shout-out: Mt. Kilimanjaro
Shout-out: George Ombado
Shout-out: African American Credit Union Coalition (AACUC)
Shout-out: Warren Buffet
Shout-out: Dale Carnegie
Shout-out: Stephanie's nieces and nephews
Place mentioned: South Carolina
Shout-out: Stephanie's mother
Shout-out: Michael Jackson
Shout-out: Todd Harper
Shout-out: Regina King
Shout-out: Taraji P. Henson
Shout-out: Oprah Winfrey
Album mentioned: Thriller by Michael Jackson
Book mentioned: Life Interrupted: Navigating the Unexpected by Priscilla Shirer
Previous guests mentioned in this episode: April Clobes, Reneé Sattiewhite (episodes 52 & 143), Jill Nowacki (episodes 4, 18, 37, 64, 82, 101, 113, 126, 138, & 148), George Ombado, Todd Harper
In This Episode:
[00:53] – Stephanie Covington started working at a credit union right at an early age.
[02:56] – "Take advantage of everything that's presented to you."
[05:06] – Why did Stephanie move towards smaller credit unions as she transitioned in her career?
[07:36] – Stephanie talks about why investing into technology can be a concern for smaller credit unions.
[09:16] – How does Stephanie give back to the financial industry?
[12:09] – Stephanie discusses how she preps for pushback that people may have for her ideas.
[14:19] – Stephanie believes in keeping an open door to alternative perspectives and ideas.
[15:57] – If you can show board members the team is united on an idea, the board may be more likely to consider it.
[18:23] – Stephanie shares why it's important to get to know board members as individuals.
[20:22] – Stephanie tells everyone a trait related to ownership that can influence a job interview.
[22:40] – Minimize your risks by running pilots on your ideas.
[24:43] – You need to be able to collaborate and work as a team.
[26:49] – Slow down to navigate life.
[28:54] – "Believe in yourself and never underestimate your value."
[30:37] – Stephanie explains why Oprah comes to mind when she thinks of the word "success."
[33:30] – What does Stephanie imagine people will remember about her?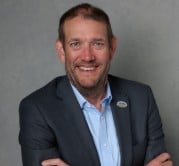 Randall Smith is the co-founder of CUInsight.com, the host of The CUInsight Experience podcast, and a bit of a wanderlust. As one of the co-founders of CUInsight.com he ...
Web: www.CUInsight.com
Details