The CUInsight Experience podcast: Linda Bodie and Zach Christensen – Amplify lives (#160)
"Learn about yourself first and then learn ways you can inspire others to do great things." - Linda Bodie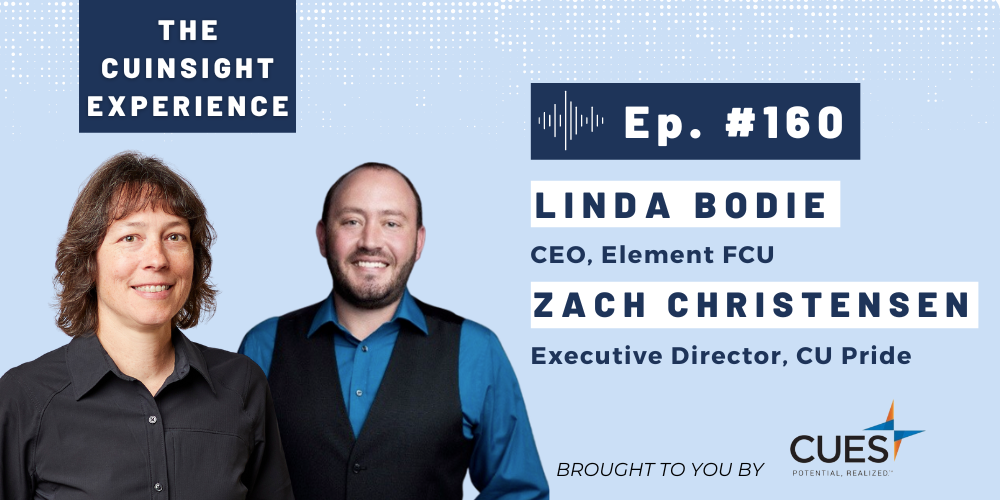 Thank you for tuning in to episode 160 of The CUInsight Experience podcast with your host, Randy Smith, co-founder of CUInsight.com. This episode is brought to you by CUES, the credit union industry's leading talent development solutions provider. After listening to our show, be sure to learn more about TalentNEXT, the conference that takes a laser-focused look at smart people strategies for your C-U. Register today!
My guests on today's show are Linda Bodie and Zach Christensen. Linda Bodie is the CEO of Element Federal Credit Union and Zach Christensen is the Executive Director at CU Pride. Together, they co-founded CU Pride alongside Brandi Stankovic and Susan Mitchell. CU Pride is the LGBTQ+ association for credit unions. While supporting LGBTQ+ credit union professionals, members, and allies, CU Pride's mission is to provide opportunities for education, engagement, and celebration, allowing the credit union industry to embrace the LGBTQ+ community. 
During our conversation, Linda, Zach, and I chat about acknowledging, supporting, and amplifying the lives and work of the LGBTQ+ community. We discuss matters happening in the world and how people have the influence to make a positive change. Linda and Zach talk about what's next for CU Pride and share what they are working on and driving towards. Listen as we discuss technology, leadership, and how to revitalize the way we take care of people across communities.
As we wrap up the show, listen in as Linda and Zach share tips on creating work-life balance,  tell us about their childhood-dream professions, and share their top albums they know all the lyrics to. Enjoy my conversation with Linda and Zach!
Subscribe on: Apple Podcasts, Spotify, Stitcher, Google Podcasts
Books mentioned on The CUInsight Experience podcast: Book List 
How to find Linda:
Linda Bodie, CEO at Element Federal Credit Union and co-founder at CU Pride
linda.bodie@elementfcu.org
cupride.org
elementfcu.org
Linda: LinkedIn
Element FCU: LinkedIn | Instagram | Facebook
How to find Zach:
Zach Christensen, Executive Director at CU Pride
zach@mitchellstankovic.com
cupride.org
Zach: LinkedIn
CU Pride: Facebook
Show notes from this episode:
A big shout-out to our friends at CUES, an amazing sponsor of The CUInsight Experience podcast. Thank you!
Want to hear more from Linda and Zach? Click here.
To learn more and become a member of CU Pride, click here.
Shout-out: CUES
Shout-out: Herb Wegner Memorial Awards
Article mentioned: Reflections on the Herb Wegner Memorial Award
Place mention: Charleston, WV
Shout-out: Bank of America
Shout-out: Brandi Stankovic
Shout-out: Susan Mitchell
Shout-out: Mitchell, Stankovic & Associates
Place mentioned: Arizona
Podcast mentioned: The Strategic Hotbox
Shout-out: UNDERGROUND
Place mentioned: Las Vegas, NV
Shout-out: CU Solutions Group
Place mentioned: New York, NY
Shout-out: Governmental Affairs Conference (GAC) 
Shout-out: CU Watercooler
Shout-out: Facebook
Shout-out: Governmental Affairs Conference (GAC) 
Place mentioned: Africa
Place mentioned: Mount Kilimanjaro
Shout-out: Renée Sattiewhite
Shout-out: African American Credit Union Coalition (AACUC)
Shout-out: Teresa Freeborn
Shout-out: Jill Nowacki
Shout-out: ChatGPT
Shout-out: CUInsight Mini-Con
Historic event mentioned: COVID-19 Pandemic
Shout-out: Linda's wife
Shout-out: Zach's partner
Shout-out: Netflix
Place mentioned: Detroit, MI
Shout-out: Todd Harper 
Shout-out: Jodie Foster
Shout-out: Vince Vaughn 
Album mentioned: Kick by INXS
Album mentioned: Greatest Hits (Compilation Album) by Journey
Book mentioned: Maximizing Impact: Success Strategies for Dynamic Nonprofits by Dr. Michelle Foster and Robyn Siesky 
Book mentioned: Influence Is Your Superpower: The Science of Winning Hearts, Sparking Change, and Making Good Things Happen by Zoe Chance
Previous guests mentioned in this episode: Linda Bodie, Susan Mitchell, Reneé Sattiewhite (episodes 52 & 143), Teresa Freeborn (episodes 30 & 155), Todd Harper, Jill Nowacki (episodes 4, 18, 37, 64, 82, 101, 113, 126, 138, & 148)
In This Episode:
[01:09] – Linda Bodie and Zach Christensen talk about their background. How did they enter the credit union space? PART 1
[03:45] – How did they enter the credit union space? PART 2
[05:11] – Linda explains how CU Pride first started.
[07:08] – Providing people a space to be authentically themselves.
[09:28] – What can credit unions do to promote more inclusivity?
[11:55] – No matter what's happening with the outside world, you have the influence to make a change. 
[13:24] – Linda talks about how CU Pride plans to develop its next steps.
[15:31] – Zach describes what the next steps look like in action.
[17:01] – Sometimes representation depends on who is comfortable being "out." How does Linda think this may change over time?
[20:52] – What can allies do to support the community?
[23:05] – CU Pride announced an official membership.
[24:35] – A  "good" CEO depends on a person's self-awareness and communication.
[26:25] – Efficient leaders inspire and seek to understand team members.
[28:17] – Linda talks about experimenting with Chat GPT.
[30:42] – How can credit unions reimagine how they show up for the community?
[32:20] – Zach talks about attracting the next generation not only as members but as professionals in the credit union space.
[34:25] – Evolve with new perspectives that come into the industry.
[36:04] – What did Linda and Zach want to be growing up?
[37:27] – What does work-life balance consist of for Linda and Zach?
[39:47] – "I can sing it all."
[41:11] – Which bands are at the top of the list for Linda and Zach?
[43:16] – Thank you Linda and Zach, and thank you for listening!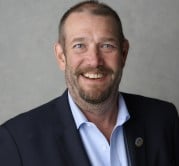 Randall Smith is the co-founder of CUInsight.com, the host of The CUInsight Experience podcast, and a bit of a wanderlust. As one of the co-founders of CUInsight.com he ...
Web: www.CUInsight.com
Details